The SMI Cold Therapy wrap with the SMI Advantage! Experience a new level of ease and comfort for post-surgical cold therapy.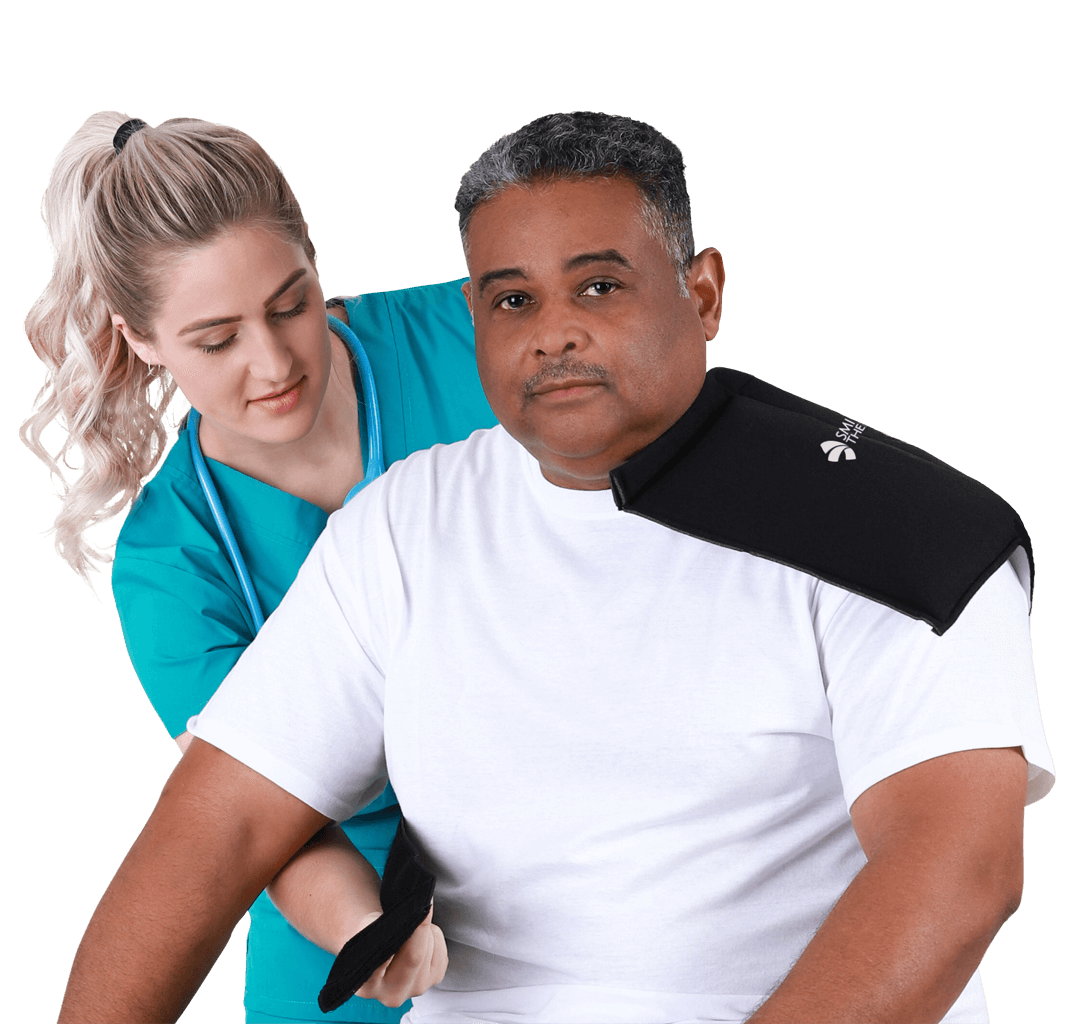 Simple is Always Better with the S•M•I Advantage!
Our wraps have extra wide proprietary straps you won't find on any other product. These straps provide superior compression meaning the cold reaches deeper for greater pain relief and edema reduction. They provide a snug fit with less slippage for easier ambulation without constricting circulation. All this adds up to greater patient compliance.
With SMI Cold Therapy Compression Wraps, you're free to move around unencumbered by the tubing and power cords of cooling machines. Nurses and patients both love the simplicity and ease of use. With our long compression straps and moldable gel bags, you get a snug, comfortable fit for maximum mobility. Patients are more compliant with cold therapy regimens because they aren't tethered to a machine and can move around. Get SMI Wraps today and start moving your cold therapy in the right direction!
Our unique gel bags allow for continuous, safe cold therapy when gel bags are rotated every 4 hours. Due to the moldability of SMI's non-toxic gel bags, you get a firm fit for comfort and cold therapy efficacy. Our 6 ice pillows in every gel bag act like ice cubes in a drink, keeping the gel bag cold for hours! Discover the SMI difference for yourself! Our cold therapy wraps are loved by patients, doctors and nurses in over 475 facilities.
Superior Customer Service
Another advantage to SMI is our friendly and knowledgeable Sales Reps. We go above and beyond to insure your needs are met and you're happy with our products. Backing them up, our customer service reps have one goal — your satisfaction. Switch to SMI Cold Therapy and experience the best!
Our Freezer program
At SMI, we make it easy for you to take advantage of our exceptional products  — we provide the freezer! What could be easier than just putting your gel bags into the freezer, taking them out frozen and sliding them into a wrap? Keeping things simple is as easy as calling SMI Cold Therapy today!
What Makes Us Different
We have the advantage of science on our side. Clinical data shows the efficiency of our wraps vs. ice bags and electric/gravity coolers. That, along with the support of nurses, doctors and program directors from over 475 facilities, means you too should be using SMI Wraps for your cold therapy.
"I have been working in orthopedics for ten years and this is by far my favorite product with regard to cold therapy. The SMI wraps are easy to use, slim and compact, and their simplistic design eliminates malfunction. Patients find the wraps user friendly and practical. My rep always goes above and beyond to make sure I have what I need and that our patients are taken care of."
Cold Therapy That's Easy to Use
No cold therapy method is easier to use than SMI Cold Therapy compression wraps! In just 4 quick and easy steps, your patients can be experiencing the benefits of comfortable and efficient cold therapy. Not only are SMI wraps easy to apply, it's easy to ambulate while wearing one — NO tubing, NO power cords, NO mess! NO kidding!
"I have had great experience with the wraps. Patients love them for their convenience and comfort. The surgeons love the patients' compliance with the product and benefit from cold therapy."
"SMI has been there for us. We have a need and they're there! Response time to our needs is also excellent. Patient's love the product and I couldn't be happier with the service that SMI has provided our organization/hospital."